Church History
St. Paul Lutheran Church was founded on January 16, 1921, when a group of men met at the home of Edwin Hoemann to organize a Lutheran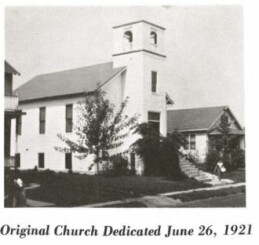 Congregation in Union. On March 17, 1921, a ground-breaking service was held for building the first church on Christina Street in Union, with the church dedication taking place on June 26, 1921. St. Paul was received as a voting member of the Lutheran Church - Missouri Synod, at the Western District Convention on June 28, 1928.
The first child baptized was Gertrude Leonora Mata Helling, daughter of Mr. and Mrs. Orlando Helling, on March 9, 1921. The first baptism in the newly dedicated church was that of Neola Emilie Elizabeth Hoemann on July 3, 1921. She remained a member of St. Paul throughout her lifetime.
Ground-breaking services for the remodeling and enlarging of the original church building were held on March 16, 1952. The building project was completed in November. The cost of the addition to the church and the painting of the parsonage amounted to $25,470. A new electronic organ was also purchased at this time at a cost of $2,185. Additional property was purchased at 208 W. Springfield Ave on February 1, 1960, as the building site for the present church. Ground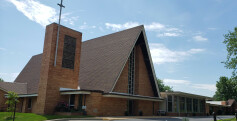 breaking was held on November 10, 1963, with the completion of the new church on September 1, 1964. An education wing was added to the church in 1992. A new kitchen, board room, and additional education wing was completed in 2002. In 2019, a renovation of the church sanctuary, narthex and an extension of the main entrance was completed.
We celebrated our centennial anniversary on June 20, 2021. Previous church staff, current members, and former members were invited to our worship service with guest pastor, Rev. Matthew Harrison, President of the Lutheran Church-MO Synod. A catered luncheon in the fellowship hall followed the worship service.
History of our Sunday School
St. Paul Sunday School has enjoyed a rich history of teaching the little children of their Lord and Savior. In 1992 the Sunday School moved into the new education wing and then expanded to another wing in 2002, which has allowed for a quality teaching atmosphere. The mission of the Sunday School is the same as it was 100 years ago - to share the love of Christ with every child through teaching as well as witnessing that love in every teacher.
---